Birch Tree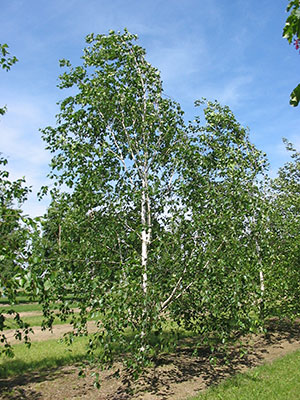 In the Celtic horoscope, four trees are each assigned to only one day as tree signs. The birch belongs to these trees, because this tree sign is only valid for those who were born on 24.06. The birch is the tree of new beginnings, of light, youth and sensuality and is considered a symbol of joy. Just as birch is said to have a creative streak, the tree is also considered "creative".
General qualities
The birch is a delicate and beautiful tree. It can be described as lively, loose, attractive and elegant. It is kind and likes to be unattached.
It is just too easy for them to adapt to new and unexpected life situations.
It is also quite undemanding and does not demand much from its surroundings.
Social
Because of her friendly and sympathetic nature, she is welcome and sought after as a guest. Birch-born babies are uncomfortable about giving others unnecessary work or even putting them to work. Arrogant and condescending behaviour is far from her mind, just as she likes to avoid quarrels.
They always spread a calm atmosphere and feelings of happiness among their fellow human beings and are considered helpful and selfless. They sometimes sacrifice themselves for others. Since this commitment is not always rewarded, disappointment is inevitable.
Birch-born children do not have to dance at every wedding and tend to hold back. You will rarely find them at the centre of a festivity. Instead, they love to spend their life in nature.
Love & Family
Loyalty and above all constancy characterize the otherwise boring love life of the birch. Making her partner happy is a very serious matter for her. However, emotional action, passion and spontaneity are not her strengths. She will never regret or reconsider her choice of partner, unless she has made a choice that is very unfavorable for her.
To retreat with a good book in a self-constructed oasis of well-being is enough for her to escape from everyday life.
Profession & Education
Equipped with a high intelligence and an extraordinary imagination, birch-born children tend to be more creative. Because of their relentless efforts, Birchborn will always find their way. She is extremely resilient and can work like a tireless animal. As a rule, all possibilities are open to them and will make it to the top in most professions. Birch-born babies are perfect advisors in all situations.
However, should it not work out with the professional success, this is not a broken leg for birch-born children. In this case she will be satisfied with what she has, because she takes life as it comes and then does not pursue too ambitiously past goals. Satisfaction at work is still important to her.
Health
Their commitment to others often becomes the birch's undoing. As a result, she very often suffers from enormous stress and exhaustion. Birchborn babies have to pay special attention to their back and heart. Sports and a good diet are recommended for birch-born babies to compensate for the stress.
This page is translated of our german partner-website baumpruefung.de